There are a lot of tweaks that can help you organize app icons for quick access, but this next jailbreak app is special. Meet Popular, a jailbreak tweak that will help you access most used apps quickly no matter where you are on the system, known by the interesting name of Popular.
Popular replaces the Recent Contacts and Favourite Contacts shortcuts with an app launcher. It integrates directly into the App Switcher and works seamlessly regardless of the apps you like to use. It is also very easy to set up; very clever too.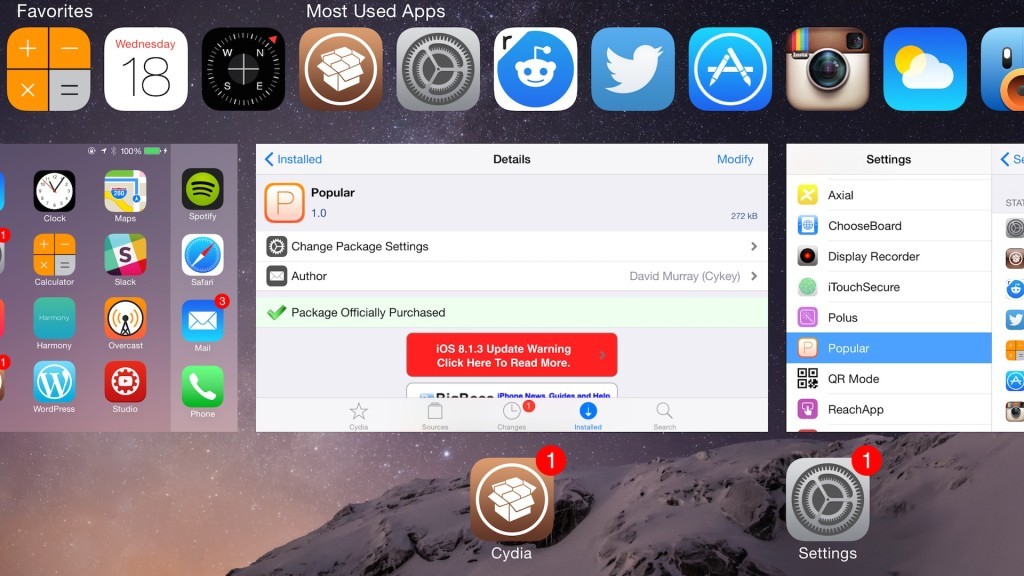 What separates Popular from other similar tweaks is the way this tweak uses your usage information to sort apps. You can quickly find the apps you frequently use quickly now that they are sorted by Popular. The way the apps are displayed also make this tweak very comfortable to use.
Popular will not show apps directly after the tweak is installed. It will begin tracking your usage time and gather enough information to organize app icons accordingly. You can see your frequently used apps through Popular's preferences page as well.
Aside from frequently used apps, you also have the choice to assign favourite apps. These apps are pinned to the top of the list, giving you easy access to them at all times. Popular has the capability to gather up to 75 app icons – and sort them correctly – at any given time.
The jailbreak tweak is available for $0.99 on Cydia. If you want to have quick access to the apps you like the most, this is the tweak to use, as people from all around the world have made complaints through which they stated that getting access to an app can be a time consuming experience, reason why the Cydia app was created in the first place.
READ  Portrait Wallpaper Offers Great Portrait Wallpapers
Based on everything that has been outlined so far, what do you personally think about Popular? Does it sound like a Cydia app that you may want to use? Let us know your thoughts in the comment section below.