While there are a lot of alternative to Installous out there which look good, one of the best that we have right now is the Appcake Repo. Appcake was a popular alternative even in 2012 when Installous had stopped working back then. Installous was one of the best .ipa installers we had. When it went dark, a lot of people began looking for alternatives to replace it.
The iOS jailbreak community loves this Appcake repo because of its massive library and immense support and the community forums.
The popularity of the Appcake has been growing ever since, and if you are new to the jailbreak community then you may want to find out how to download it `from Cydia to your iOS device. Here is a step by step guide to downloading and installing the Appcake repo which is a perfect alternative to Installous.
Where to Begin To Install Appcake Repo
To begin with, you must jailbreak your iOS device. Appcake cannot be installed on a non-jailbreak device so you must not try that. No matter how you jailbreak your device, once it has been jailbroken, you can proceed to installing Cydia on it. This is also important because you can install the appcake repo only if you have Cydia on your device. Once you have both these things in place, then you can proceed to downloading and installing the Appcake repo.
How to Install Appcake Repo
For that, you must open Cydia and then tap on Manage and then go to Sources. Here you must tap on Edit and then tap on Add. These steps are pretty basic once you start using Cydia regularly and are required to add a Cydia repository. You will be able to do this easily once you get familiar with Cydia.
READ  Fix the current Do not Disturb issues with DisturbMeLater So the next step is that in the text box that comes up, you must enter the Appcake repo link. The link is http://cydia.iphonecake.com . While this is not the only source that hosts Appcake, so far we find it to be the most reliable one. We find this to be a good source because it has the latest version which is preferred by the users. When using a source, everyone wants to use the latest version this is why this source is good.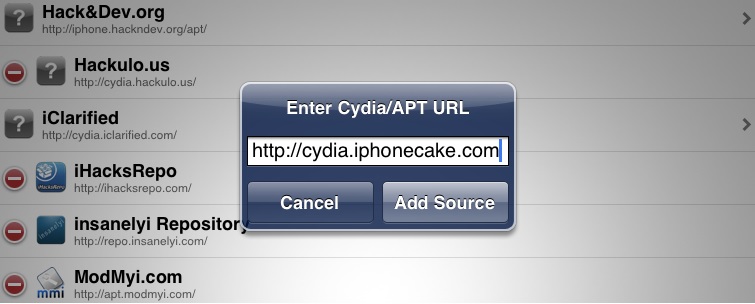 Once you have entered the link for the source, tap on Add Source and Cydia will process this in order to verify the repo. Wait till Cydia verifies that the repo is from a valid source and then you will notice a warning message show up. If you wish to proceed then you must tap on Add Anyway so that the repo can be successfully added to Cydia. Now the process of adding the repo will begin and after some time you will get the option to Return to Cydia. When you see this button, tap on it so that you can go back to Cydia and you will notice that you are back on the sources page. This page should show you iPhoneCake repo which has been added to your device.
Your next step should be to tap on it and look for AppCake + if you are using a non HD screen iOS device like iPhone 4, 4S or 5. But if you are using an iOS device with a HD screen then you can install AppCake HD. Once you have chosen the app that you would like to download to your device, tap confirm and then Return to Cydia.
READ  The iOS 8 jailbreak is here!
Post Installation of Appcake Repo
Once the installation is complete, you must reboot your device. AppCake will work only after you have rebooted your iOS device. Then you can check your Springboard for the icon of AppCake. You will be able to access many paid apps for free through AppCake. It is a superb place to try out apps that you may want to buy.
While AppCake is one of the best alternatives for Installous, there are some more that are considered to be good. If you think that AppCake is not good for you and you would like to try something else, then there are other installous alternative like vShare and Apptrackr. Most of the users find AppCake + and AppCake HD to be the best Installous alternative available at this time.