We are all aware of the fact that the no. 1 reason that people jailbreak their iDevices is to get access to new customization features that can play an important role when it comes down to giving your iDevice a personal feel, regardless of the iOS version that you are currently running or waiting to get the iOS 8 jailbreak. Messages Customizer Pro is yet another great Cydia app that can help you customize the feel of your iPhone.
This Cydia tweak comes packed with great features to change the look of the stock Messages app. With this in mind, it offers 6 different great themes that you can choose from including dark, faded, flat, translucent and outlined themes. Each of these can have an important impact on how texting feels. Additionally, another great feature of this Cydia app is the fact that users can also go ahead and create their own themes, to be unique from all the points of view. However, one of my favourite features that this app offers is that users can also go ahead and set certain themes for certain contacts, in order to always be able to know who they're talking with.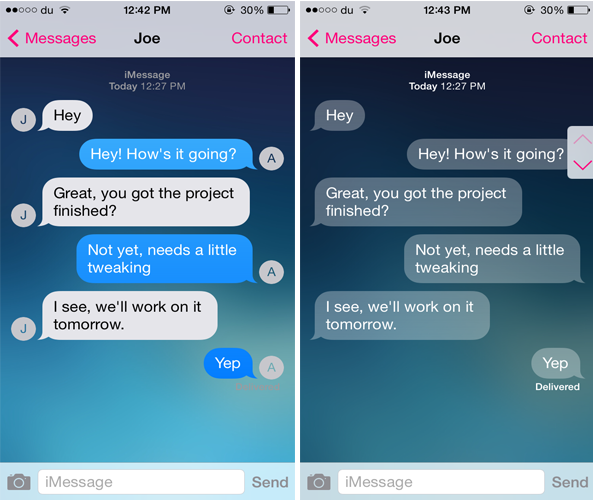 When it comes down to the ease of use of this app, it does require some technical experience, as once the Cydia app is installed, users are offered different customization options, but also, as earlier mentioned, the ability to create their own themes. Additionally, a couple of advanced options are also offered and these can be used to change other visual aspects of the Messages app.
It is important to remember that there are currently two versions of this Cydia app: the free and the paid one. If you are looking for just a low level of customizations and you don't feel like getting into anything too fancy, then I would recommend the free version. However, if you would like to get access to many advanced features and to truly feel the power that Messages Customizer Pro has, then you should get the paid version.
All in all, this Cydia tweak is great to have by anyone with a jailbroken iDevice, but also by those who are thinking about getting the iOS 8 jailbreak. Messages Customizer Pro definitely represents one of the most advanced Cydia apps designed for the Messages app available on the market at this moment.
Have you tried it out? If yes, what did you think about it?