The iOS 7 Jailbreak is here.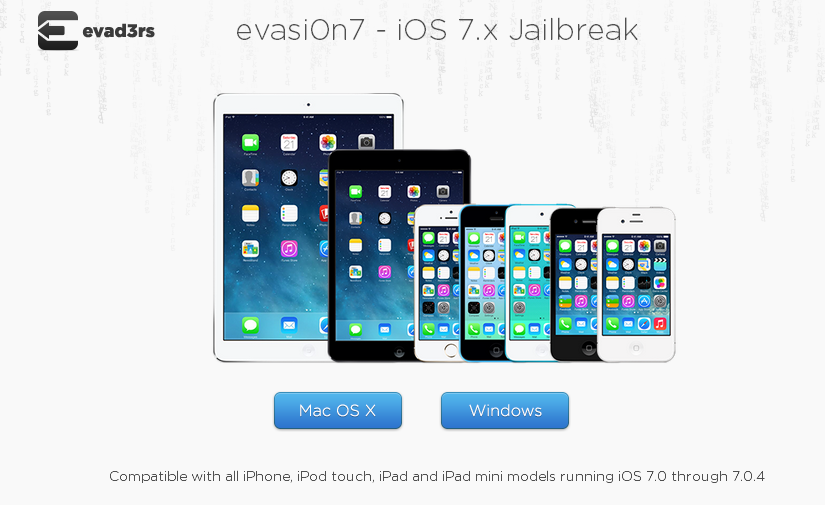 That is right! After the long wait the fine team over at Evasion released a working iOS 7 jailbreak. The tool that does the jailbreak for iOS 7 works on all the major operating systems. If you are familiar with the process go ahead and check out the Evasi0n website and get the iOS 7 jailbreak now! If you aren't too sure we put this guide on how to do it painlessly.
iOS 7 Jailbreak Download
Just follow these simple steps to install the iOS 7 Jailbreak.
1. Backup iPhone. (Make sure to do this)
2. Download the Evasion iOS 7 jailbreak tool.
3. Open the iOS 7 jailbreak tool from Evasion on your computer.
4. Connect your iPhone or iPad to your computer, If you have a security lock enabled go into your settings and disable it for this process. You do this by going into the settings app, and then under general there is a "Pass code Lock" section. You can re-enable it after the iOS 7 jailbreak has finished. It is also a good idea to put your iPhone or iPad on "Airplane" mode. This will keep any apps from using data that might mess with the iOS 7 jailbreak process.
5. Now go back to your computer and find a button that says "Jailbreak" in the Evasi0n program. Click the jailbreak button to begin the process. It will take a fair maount of time for the iOS 7 jailbreak to complete as the tool will be installing some files on your iPhone or iPad. Also your device will be restarting as this process is going on, wait for Evasi0n to finish the iOS 7 jailbreak.
6. As the iOS 7 jailbreak process is working the Evasion tool should have installed a temporary jailbreak app on your iphone or ipad. Go ahead and unlock your device like you normally would and tap on the jailbreak app icon. It is going to cause your screen to flash quickly and then make it look like its doing nothing. But if you take a look at the computer screen you will notice the iOS 7 jailbreak is still working. This is all part of the process. After a brief wait the Jailbreak process will finish, you can then go ahead and close the evasion iOS 7 jailbreak tool on your computer. After your iPhone or iPad reboots a few times you now have the iOS 7 jailbreak ready to go! As soon as the locks screen shows up you can unplug your iPhone or iPad and be on your way to enjoying Cydia Apps and Cydia on iOS 7.
Not all Cydia apps are ready for the iOS 7 jailbreak, but you can keep checking back here and we will be posting them as they are being updated. We hope this iOS 7 jailbreak guide was helpful to you. We will be making a video this week showing the steps on camera, so be on the lookout for that!