For all of its good qualities, even the iPhone needs to be improved as time passes; their notification system simply leaves much to be desired for. For starters, all the notifications that you receive on your smartphone will awaken your Lock screen as it is engaged; and as battery on smartphones is easily drained, you'd want to keep these sorts of notifications at a minimum.
It doesn't work, since you can't simply do away with all the unwanted notifications. Until now.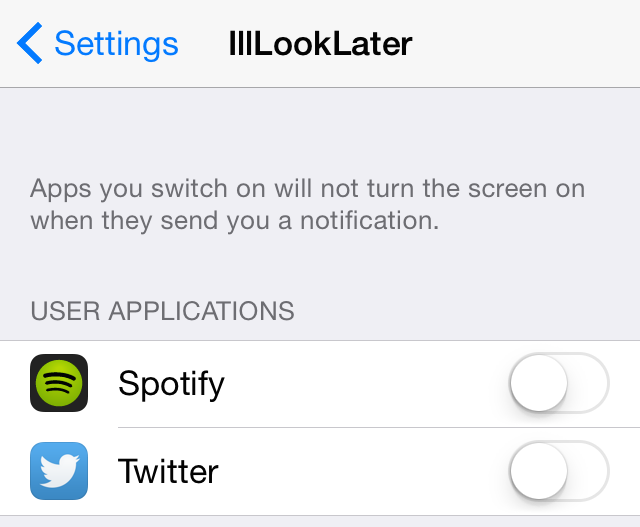 IllLookLater is a neat little app that allows you to silence all the notifications you want. In essence, you install the app, go to app Settings menu, select IllLookLater, and then simply select which apps will wake the Lock screen and not. Don't worry, the sound alerts will still stay on, so you won't be completely deprived of the updates.
There are two main benefits of this app. The first one is, of course, that it saves your battery life. You will prevent the waste of precious energy by your screen not flaring up every time some app, which you need but don't particularly care for, has something to tell you. It is a perfect silencer for the loudest apps.
The second benefit might not be that apparent, but is just as important – privacy. Simply put, IllLookLater prevents prying eyes from seeing any unwanted notifications when you leave your phone carelessly lying around. Life is too short to be wasted on unnecessary embarrassment. The app is a welcome addition to any smartphone – we cannot recommend it enough.
READ  View your volume in the status bar with VolumeStatus 2
The app is available completely for free on the BigBoss repo. So far we haven't encountered any bugs with the app.
Based on everything that has been outlined so far, this is a neat Cydia app that is sure to improve a lot of factors about your iOS device. Give it a try and let us know how well it worked for you. If you encounter the bug, let the developer know; such little tidbits make overall life easier for us all.