Review of Sara, a Siri replacement from Cydia Apps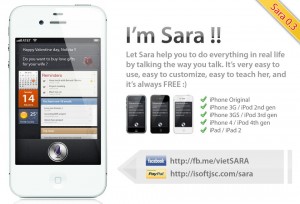 If you are one among those iPhone users who is unhappy with your older iOS models as you are fuming with envy over the Siri of iPhone 4S, then you can now catch hold of the alternate option available such as the SARA. This is for all those who wish to have a slice of the personal voice assistant that just requires a jail broken iDevice, which can be new or old models of iPhone, iPod or iPad. However, remember this exciting app cannot be detected at the default repositories of the Cydia stores. You are required to add a new repo to the sources of the Cydia client. To do such action, visit the manage section and add the URL: http://isoftjsc.com in the sources. When you have added the sources, you can search for Sara.
However, there are few aspects that set aside Sara from the rest of Siri clones as there is a ten fold increase in its efficiency than Siri. The list below has some exceptional features of this exciting free app from Cydia Apps that would make you go gaga over it. Read on to know what all you can do with this interesting app.
Find any local business or know the right direction (irrespective of places and region)
Search for any songs you like
Make a call or message
Find the latest movie schedule of the cinemas that is located near your locality
Take a glance at the newspaper through RSS
Check all your mails
Remote control – Personal Computer
Search for videos from YouTube, Wikipedia and Google
Functional toggle system with on / off facility for Bluetooth, 3G and Wi-Fi
Support translation of over 37 languages
Read qr code, bar code, sell your business and find price.
OCR feature – replaces the scanner
Social network support: allows you to take a snap and send it to the twitter and facebook.
Search product price or find local businesses.
Open apps
Weather update
As soon as the installation is complete, you can find this app visible on the springboard on the iDevice as it is placed as a separate icon. You just need to tap it and experience the ability of Sara in its full glory with Wi-Fi connectivity!
The good thing about this exciting one from Cydia apps is, apart from accepting the commands you issue by speaking, you can also enter any query you have using the keyboard on the right by just tapping it. This is very useful when you wish to make Sara to understand what you wish to convey, highly essential for non-native speakers of English. Sara has the ability to answer almost all questions that you can ask it. You can save your name in the settings menu of the app, which would be used by the app while interacting with you. You can also store your region or location to get the results displayed based on that.
Let us know what you think of it in the comments!