I'm one of the people who were ecstatic when Apple decided to allow third-party keyboard apps. I've been dreaming about having SwiftKey on my iPhone for some time and now I actually use it as my main keyboard. Naturally, third-party keyboard developers including SwiftKey are trying to add new, functional features to their keyboard apps. This next preview from SwiftKey Cydia app may just be an interesting development to wait for.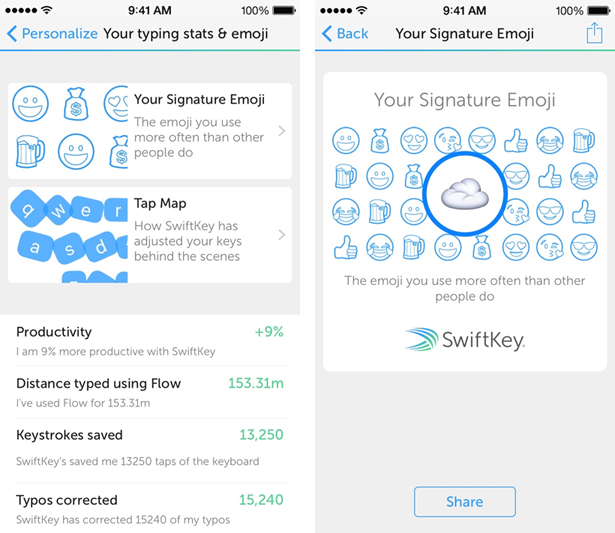 Your Signature Emoji
If you use messaging apps frequently, you are most likely familiar with emoji symbols. We tend to use certain emoji symbols more often than the others; this is what SwiftKey is trying to capture through its Your Signature Emoji preview.
Thanks to SwiftKey's learning mechanism, the keyboard app can recognize emoji symbols you frequently use. By processing this usage data, SwiftKey can now display the most frequently used emoji symbols. It is more than just stats too. SwiftKey can recognize which emoji symbols you use more often than other people as well.
"Another way of describing this is we show you the emoji you over index for," developers said.
Once the app learned about your signature emojis, it can provide you with a much more accurate suggestions. When fully implemented, SwiftKey will be able to suggest the correct emoji you normally use when chatting with friends and relatives.
Your Signature Emoji Beta
Your Signature Emoji is currently in its Beta stage, but some of you may be able to use this feature already. If you are on an iPhone and you use SwiftKey as your main keyboard, this feature is already available to you. It will be rolled out to other users really soon as well.
You must be a SwiftKey Cloud user to be able to use Your Signature Emoji. If you aren't on the iOS Beta yet, you can also add your name to the waiting list to get SwiftKey on your iPhone and other iOS devices.
About SwiftKey Cloud
SwiftKey Cloud is the core of this app's ability to recognize your typing habit and improve its keyboard accordingly. It learns about the words you normally use, how you string your sentences and other details about your typing habit in order to provide a better set of suggestions. As SwiftKey learns about your typing habit, the suggestions it can show will get perpetually better.
You can sign up using Facebook or Gmail and have your SwiftKey Cloud account activated right away. Bear in mind that you can choose to grant SwiftKey access to your previous messages from those networks so it can learn about you quickly and effectively. You can also connect to services such as Twitter and Evernote to help SwiftKey learn so much more about your writing style.
This may sound like a breach of privacy at first, but SwiftKey has a very strict privacy policy to back its learning mechanism up. You can also choose to activate or deactivate SwiftKey Cloud at any time. It is even possible to deactivate Backup & Sync or Personalization features altogether.
SwitchKey Cloud also offers the best encryption for your typing date. Since it is cloud-based, your writing style and typing habit are synchronized across all of your devices. You can have a consistent SwiftKey typing experience no matter which device you use and the app will be able to provide you with accurate suggestions every time.
The app itself is available on iTunes App Store for free. You can download free and premium themes for your keyboard as well as customize the whole SwiftKey experience to your liking. The latest version supports over 30 languages and all devices running iOS 8 or above.
Based on everything that has been outlined so far, what do you personally think about the updates that the Cydia tweak, SwiftKey constantly releases? Let us know your thoughts in the comment section below.