At this moment in time, there are several alternatives to Install0us, the popular app installer that most jailbreaks have used at least once. Perhaps one of the most popular available on the market at this moment in time, is a new jailbreak app known by the name of AppAddict.
In this article, we will be talking more about the app itself, while also telling you how to download it and use it in order to get whatever apps you want on your iOS device for free. Do keep in mind the fact that to be able to install AppAddict and get the necessary applications, you need to have a jailbroken iOS device.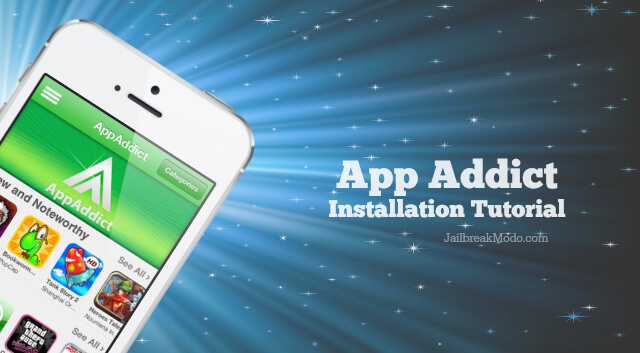 Installing Appsync
To kick things off, you will need to install another app known by the name of Appsync. To do this, simply head over to Cydia, tap on manage, resourced, edit and then add. Over there, add the following new source: cydia.xsellize.com. Once this is done, simply tap on the new repo and download and install Appsync. You'll have to respring your device to get everything set.
Using AppAddict
Once this is done, open your web browser, and head over to appaddict.org. Use the displayed slider to install the application onto your iOS device. You may want to give it a respring to make sure that everything is working smoothly. Before anything else, if you have an app that you love, you may consider the idea of buying it after you try the free version of the app, to support the developer.
READ  The Winner of the iPhone 5s is..
Now that everything is set, simply open the AppAddict app and search for the app that you are looking for. Once this is done, you can click on one of the many links available, which will take you to the host site. In case you do not have a paid account on the host site of your choice, you can either choose the free or slow download. Most of the times, this will prompt you to enter a CAPTCHA, view a couple of ads, or wait for a timer. Once the app has downloaded, you will have to swipe right and click on the installer. Simply follow the prompts that appear on the screen, wait for a couple of seconds, and then respring your device.
Once this is done, the app that you have freely downloaded will be available to use.
Based on everything that has been outlined so far, what do you personally think about AppAddict? Have you tried the downloaded until now? Let us know your thoughts in the comment section below.
Make sure to also follow AllCydia for the latest jailbreak news and Cydia tweaks.